I am excited to share with you today Rebecca Shea's book #2 in the Unbreakable Series – UNDONE! This is Landon's story!  This story can be read as a stand-alone, however, I recommend reading Unbreakable too – so you may want to read that first.  Make sure to check out my review, watch the trailer, read the teaser and enter the BIG Giveaway including a Kindle Fire below!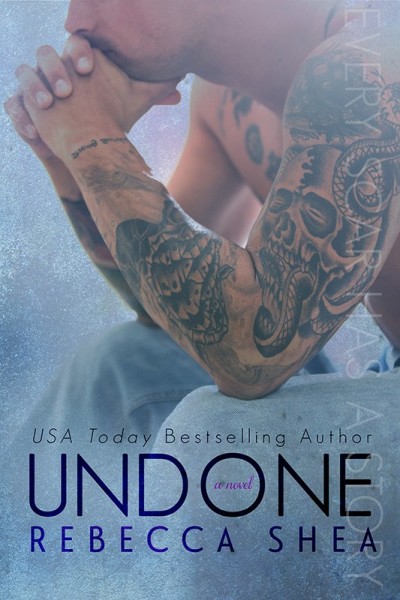 Companion to "Unbreakable" — Landon's story
**This book is New Adult and contains mature subject matter. It is not intended for those under 17 years of age.**
I've found it's easier to share my body but not my soul. I need no one, yet I crave her.Self-assured and independent, she doesn't need me—but she wants me, and undeniably I want her too. At war with myself as I battle the secrets of my past, I don't know if I can allow her to see the darkest parts of me, the parts I've left untouched—undone.As she chips away at the walls I've built for years, I fear those secrets will hold me hostage from love—forever. 
Rebecca has done it again! I loved Unbreakable BUT UNDONE….. sigh, I love Landon. I am thrilled we have gotten the chance to see his story. Make sure to pick this one up, you won't regret it.I am going to try to be careful here for those of you who have not read Unbreakable the first book in this series, as I do not want to give any spoilers.  Undone can certainly be read as a stand-alone, however, you are missing out if you do not read Unbreakable first.So, where to start…. Landon…. We get Landon's story!!!!!   Ohhhh yummy, tattooed, love them and leave them Landon wrapped up in a perfect package in his police uniform.  Can you picture it??  While we meet Landon first in Unbreakable and his start in that book was that he was a bit of a player, he certainly did a 180 when he found someone he had feelings for and he would win you over by the end.  You know reading Unbreakable that Landon has a story and you get it and more in Undone.  Rebecca did not disappoint!I loved this book! Again, Rebecca delivered a story that that had me quickly turning the pages to find out what was going to happen next and racing to what I hoped would be a happily ever after.  I was pleasantly surprised with the twists the plot took.You get to see into Landon's past, and why he struggles with allowing himself to love and be loved.  In comes Reagan who has caught Landon's attention and perhaps his heart.  Reagan is a beautiful independent and successful woman, but has her own share of heartbreak from her past.  She is not the type to allow herself to be on the end of a one-night-stand, she wants more.  Will she be able to fully break down Landon's walls? Will he let her? Can Landon fight his demons by letting Reagan into his past so they can have a future together?I highly recommend on picking up this series to find out for yourself.  

"So you're like a modern-day saint," I say. "Saving people, dogs…what else do you have up your sleeve?"She laughs. "Ha! Hardly. I don't save anybody or anything, I just like to help.""I like that about you, Reagan. I like that you like helping people—even dogs." She picks up a small handful of sand and lets it run through her fingers. "And I'd like to see you again, but I'm not sure I could give you what you want or need.""How do you know what I want or need?""I guess I don't. But what I do know is that I like talking to you.""You're breaking your own rules, Champ. You've seen me twice—yesterday and today. You said it yourself you don't see someone more than once.""Ah, you're wrong. I don't sleep with them more than once, not see them more than once.""Oh, that's right; as long as we don't sleep together, we can be friends—hang out, and see each other again and again," she says sarcastically. Turning toward me, she leans in too close, her nose pressed against the side of my face. I can feel her lips hovering just next to my ear. "But what happens when one of us wants more?" she whispers. "Because one of us will, it's inevitable. What happens then? You fuck me and leave me—never see me again?"I turn to meet her crisp blue eyes. She's leaning in to me—staring at me."Do you want to fuck me, Reagan?""Not if I can't see you again—no."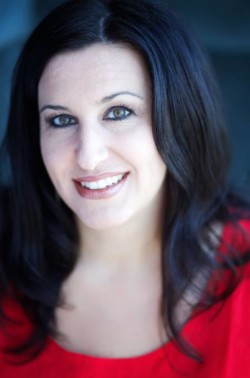 Rebecca Shea is the USA Today Bestselling author of Unbreakable. She lives in Phoenix, Arizona with her family and her beagle, Miles. From the time Rebecca could read she has had a passion for books. Rebecca spends her days working full-time and her nights writing, bringing stories to life. Born and raised in Minnesota, Rebecca moved to Arizona in 1999 to escape the bitter winters. When not working or writing, she can be found on the sidelines of her sons football games, or watching her daughter at ballet class. Rebecca is fueled by insane amounts of coffee, margaritas, Laffy Taffy (except the banana ones), and happily ever afters.Facebook
https://www.facebook.com/rebeccasheaauthor
Twitter
https://twitter.com/beccasheaauthor
Website
http://www.rebeccasheaauthor.com/#
Goodreads: 
https://www.goodreads.com/author/show/6878970.Rebecca_Shea
3 ebooks of UNDONE3 signed paperbacks of UNDONE3 ebook sets of UNBREAKABLE and UNDONEGrandprize: Kindle Fire
a Rafflecopter giveaway